PMI Grants USD 40,000 for Hairdressing Vocational Training in Can Tho
We care about our community!
We are delighted to share with you PMI and Vinataba – Philip Morris' participation as sponsor in the "Hairdressing Vocational Training for Women In Need" Grant Ceremony in Can Tho City, which has been featured in the Can Tho Red Cross Chapter website and on Can Tho Television.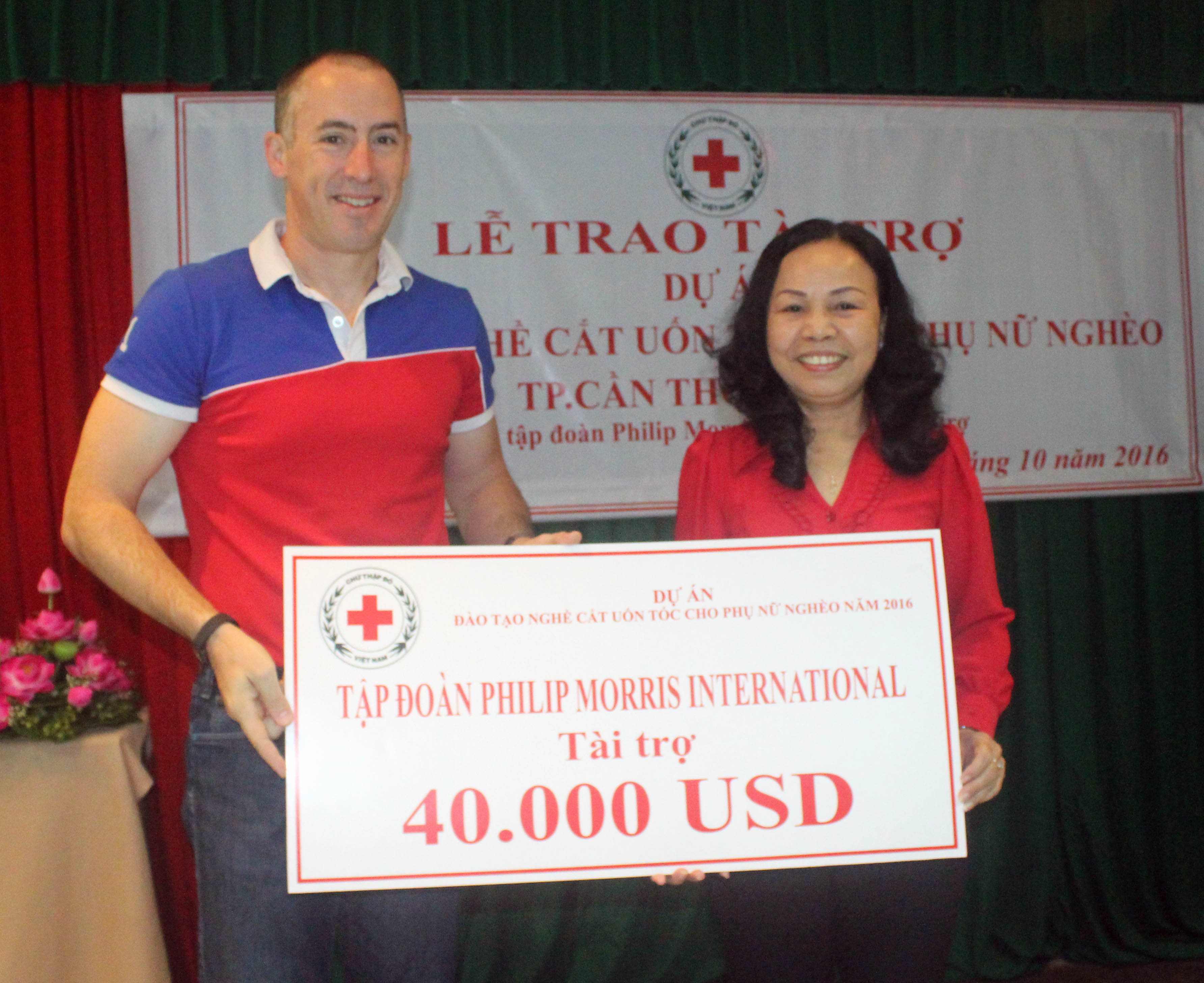 Vinataba-Philip Morris Branch Director, Mr. Brett Taylor, joined in a grant ceremony on October 4, 2016 in Can Tho City to hand over the PMI grant of USD 40,000 for the Can Tho Red Cross Chapter to support hairdressing training for 100 women beneficiaries in Ô Môn, Cờ Đỏ, Thới Lai and Vĩnh Thạnh Districts. Each beneficiary will not only receive the intensive training to excel in hairdressing techniques, but also receive a full hairdressing toolkit to immediately apply their newfound skill.
As a next step, the Can Tho Red Cross Chapter will coordinate with the Can Tho Women's Union and the Department of Labor, Invalids and Social Affairs to select another 100 women beneficiaries based on their interest in hairdressing as well as their personal/family situation, and subsequently conduct training sessions at selected locations near their homes.
Vinataba - Philip Morris, the PMI affiliate in Vietnam, has always shown a strong track record of supporting charitable causes. Since 2007, PMI has granted more than VND 14 billion in support of projects in Can Tho, such as the construction of compassionate Red Cross houses and provision of clean water. In 2014 and 2015 combined, nearly VND 3.2 billion (USD 150,000) was contributed towards the project "Household Sewing Training for Women In Need in Can Tho." This project has changed the lives of its beneficiaries, many of whom have secured permanent jobs in the garments industry.
The Vietnam National Red Cross, Can Tho Red Cross Chapter and local government highly regard PMI as a partner in contributing to the betterment and improvement of livelihoods of local impoverished and marginalized households in Vietnam.
Below are news articles and video clips posted by Can Tho Red Cross Chapter and Can Tho Television covering the overview of the grant ceremony:
http://canthotv.vn/trao-tai-tro-du-an-dao-tao-nghe-cat-uon-toc-cho-phu-nu-ngheo/
http://chuthapdocantho.org.vn/article/tap-doan-philip-morris-international-tai-tro-40-000-usd-cho-du-an-dao-tao-nghe-cat-uon-toc/369.htm